How Good Workplace Ergonomics Can Improve Your Health and Energy
How Good Workplace Ergonomics Can Improve Your Health and Energy
Written By PTConcepts on February 5, 2021
---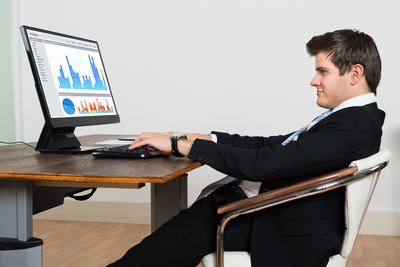 You want to do a good job at work. You want to be as productive as possible.
Unfortunately, when you're constantly experiencing body pain or eye strain, it can have a negative impact on your overall health—nevermind just your productivity.
With better workplace ergonomics—and help from your physical therapist—you can improve your energy, health, and workplace productivity.
Good Posture and Ergonomics—Why Important
Whether you're working at a computer, driving a truck, or working in construction, proper workplace ergonomics is the best way to prevent workplace injuries.
Poor ergonomics include:
Sitting or standing in an awkward position instead of a neutral position
Improper lifting or lifting too much weight without assistance
Poor lighting
No breaks
Poor computer/laptop set-up
Temperature extremes
An ergonomic set-up and practices will prevent repetitive motion injuries, which can not only result in pain but also the need for surgery.
Thankfully, with good workplace ergonomics, you can reduce your risk of injury and pain while improving your overall wellbeing and efficiency.
The Impact of Workplace Ergonomics on Your Health and Energy
Imagine how you would feel if you implemented the following at work:
Invested in an ergonomic keyboard, office chair, and computer monitor stand
Had access to natural light
Took breaks throughout the day to stretch your body and look at something other than a computer screen
Your body would feel so much better! You'd have less back, shoulder, and neck strain. You'd experience fewer headaches.
Good workplace ergonomics allow for the proper alignment of your body, easing the strain on your musculoskeletal system. You'll experience better circulation and proper flow of lymph and cerebrospinal fluid, all of which keep your body healthy, improve immune health, and increase energy.
Your Physical Therapist Can Help Ease Your Pain
Proper workplace ergonomics can help prevent pain and repetitive soft tissue injuries. But what if you've been dealing with poor ergonomics and posture for some time now, and it feels like you still struggle with pain no matter what you do?
If this is something that troubles you, you should call your physical therapists at PTConcepts. We can provide manual therapy to help reduce inflammation and tension in your muscles and joints. We'll also suggest exercises you can do at home (or on your breaks at work) that will relieve strained muscles and pain.
Struggling with pain from poor posture or workplace ergonomics? We can help! Contact us to schedule a consultation.

Posted In: Physical Therapy Workplace Ergonomics