Knee Pain Treatment: Why Choose Physical Therapy?
Knee Pain Treatment: Why Choose Physical Therapy?
Written By PTConcepts on May 21, 2018
---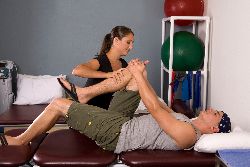 Your knees play an integral role in your day-to-day activities, and when you're experiencing pain in one or both of your knees, these activities can become limited.
However, physical therapy offers a way to keep your knees mobile and strong, potentially helping you avoid severer knee pain so you don't require surgery. It can also be used as a complementary therapy pre - and post-surgery.
So why should you consider visiting a physical therapist for knee pain treatment?
The Importance of Pre - and Post-Operative Knee Pain Treatment
Even after you've been referred to the hospital for knee surgery, you shouldn't rule out physical therapy entirely.
Rather, the techniques and exercises a physical therapist can offer aid the recovery process immeasurably. Building up your strength and stability prior to surgery, they help ensure your knee is strong enough to heal afterward, and they'll also be able to teach you preventative exercises that keep knee pain at bay in the future, too.
Using Physical Therapy to Prevent Surgery
At your first appointment, your physical therapist will conduct a number of tests and assessments to assess your pain. This way they can put together the most effective treatment plan.
This treatment may involve modalities and exercises that help alleviate any pain while improving your mobility. These exercises will be something you do at the clinic and at home so you gain maximum benefit from them.
An example of some exercises include:
Hip-strengthening exercises
Short arc quads
Balance exercises
Lower-extremity exercises
Straight leg raises
Quad sets
They'll advise how often you should do these at home while also monitoring your progress with each visit.
They may add complementary therapies into the mix including kinesio taping and massage therapy.
How long will you need physical therapy for?
This depends entirely on the injury you're suffering from and whether or not you've had surgery. Sometimes, it may take 6 weeks or more to get back to normal. And the number of visits you'll need will also depend on the pain you're experiencing and how severe this is.
Your physical therapist will be in regular contact with your doctor so they can continue to discuss your progress and the course of treatment necessary. Together, you'll all be able to work toward your end goals – improving knee movement, building muscle and leg strength, and reducing your pain.
Don't let knee pain rule your life and get in touch with our team at PTConcepts today. We offer knee pain treatment in Plano, Frisco, and McKinney.

Posted In: Knee Pain Treatment Physical Therapy