Treat Your Low Back Pain with PT Concepts
Treat Your Low Back Pain with PT Concepts
Written By PTConcepts on September 27, 2021
---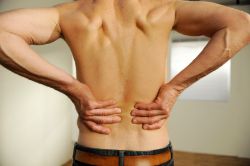 Within the confines of the human body, perhaps no injury is more debilitating and painful than that of the lower back. As a primary source for all physical movement, low back injuries inhibit daily functions, limit our ability to sleep properly, and cause extensive issues with related muscle groups.
Low Back Pain Treatment. Simplified
For individuals seeking low back pain treatment, the team at PT Concepts is here to help. Whether you are looking for alternatives to surgery, or in need of physical therapy before or after a scheduled lower back procedure, our dedicated doctors and team of professionals will create a personalized recovery plan that will help you recover faster and more efficiently. Before proceeding with your personalized therapy plan, however, we first observe. With an introductory biomechanical assessment—which includes a detailed examination into your bodily movements, muscle balance, alignment, and structure—our team takes a deliberate approach to ensure that the cause of pain is pinpointed.
After the introductory assessment has taken place, we then formulate a strategy and plan that is focused upon your specific bodily needs. For lower back treatment that does not require surgery, our facilities include options such as ergonomic training, myofascial release, and core stabilization training. Meanwhile, for individuals who are seeking post-surgery therapy, our team specializes in the Graston Technique. As a form of therapy that focuses on soft tissue mobilization while breaking down scar tissue, this is an ideal choice for individuals seeking to expeditiously regain full mobility and recover from lower back surgery.
Meanwhile, as a physical therapy provider whose primary goal is to offer a sustainable, self-sufficient, and long-lasting recovery, we also provide education on at-home stabilization, stretching, and core strengthening exercises that can be performed without a physical therapist present. Regardless of your particular needs or preceding medical history, our team is here to provide the best low back pain treatment imaginable.
Focus on Your Recovery. Let us Handle Everything Else.
Whether you are looking for low back pain treatment, orthopedic rehabilitation, or any of our additional services, we make physical therapy as simple and pain-free as possible. With five convenient locations, accommodating hours, and services that accept almost all types of insurance, the only thing you have to focus on is your recovery… and nothing more.
For further questions regarding our services, or if you would like to book your first appointment, please visit us online today.

Posted In: Low Back Pain Treatment Physical Therapy