Build Core Strength and Feel Like Yourself Again with Physical Therapy
Build Core Strength and Feel Like Yourself Again with Physical Therapy
Written By PTConcepts on May 28, 2020
---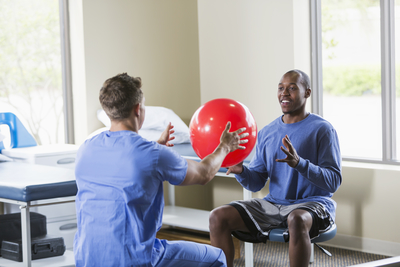 Don't you love the feeling of being in the best shape of your life?
You feel strong, healthy, unstoppable.
Unfortunately, an injury can sideline you, and though you may be itching to get back into the swing of things – like your favorite workout – doing so improperly can lead to disastrous results.
Thankfully, your physical therapy team can provide you with strengthening exercises and stretches that can help protect your body from reinjury.
Physical Therapy: Strengthening Exercises to Get You Back to 100%
One of the main goals of your physical therapist is to increase your strength, particularly that of your core.
Your back and abdominal muscles are vital to your balance and stability. Having a strong core allows you to:
Complete daily tasks with ease
Walk, run, and otherwise maneuver your body without issue
If you've been sidelined due to an illness or injury, your core muscles aren't going to be as strong as they used to be. Because of this, you won't be ready to jump back into your old workout routine. Trying to do so can lead to reinjury and long-term damage.
The Importance of Strengthening Stretches
In addition to providing you with a variety of strengthening exercises, your physical therapy team will also provide you with strengthening stretches.
Stretching your core is just as important as building muscle. Your core muscles are some of your body's hardest-working muscles. Improving your flexibility will help:
Prevent injury
Improve posture
Reduce back pain
Improve the effectiveness of your workouts
Physical Therapy – The Safe, Effective Way to Get Back into Shape
Trying to get back into shape on your own after an injury can lead to reinjury, which could end up being worse than the original injury.
Your physical therapist has the knowledge and training necessary to prevent that from happening. Make time to talk to your therapist about your treatment plan and which exercises are best for your individual needs. Doing so will get you back to your normal workouts faster and without the risk of permanent damage.
Contact our office today to schedule a consultation to find out if you're a good candidate for physical therapy services.

Posted In: Physical Therapy Core Strength