Physical Therapy for Migraines
Physical Therapy for Migraines
Written By PTConcepts on August 26, 2021
---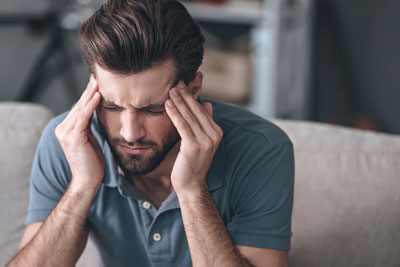 Almost all of us have gotten a headache at one point or another. Whether you were staring at the computer screen all night or got a little too much sun over the weekend, headaches are common, temporary, and easily treated with some acetaminophen.
However, for those that struggle with chronic migraines, the associated symptoms and treatment are much more extensive. As an inherited condition, a migraine is defined as a neurological disease that affects 12% of the population. Characterized by a throbbing pain on the forehead with symptoms ranging from loss of peripheral vision to nausea and vomiting, its effects can be severe.
Our Migraine Treatment Process
For individuals seeking sustained relief, physical therapy at PT Concepts offers natural migraine treatment. Whereas other migraine treatments focus on inhibiting the throbbing pain and masking its cause, our migraine treatment process is focused on correcting the problem at its source. With a personalized approach that seeks to provide a sustainable and long-lasting solution, our team first conducts an extensive questionnaire regarding your migraine and medical history, prior injuries, and daily routine. We then conduct a biomechanical assessment that looks holistically at your body, muscle alignment, and structure, which helps us decipher and determine the root cause of the migraine. After these introductory assessments, our team of dedicated therapists will then create a personalized treatment and recovery plan. From posture correction to deep tissue massages, and even electrical stimulation, we offer a diverse range of migraine treatment services that cater to your specific needs.
Convenience, Care, and Cutting-Edge Facilities
Beyond our personalized recovery plans and services, PT Concepts is a multidisciplinary healthcare team dedicated to putting patients first. With five convenient North Texas locations, cutting-edge facilities, and education and support resources for sustainable and preventative care, our goal is to help you live a happy and pain-free life. Plus, our team accepts almost all forms of insurance.
Looking for even more services, have questions, or want to make your first appointment? Be sure to book your first appointment by visiting us online today.

Posted In: Physical Therapy Migraine Treatment