Shoulder Pain Treatment: Why Choose Physical Therapy?
Shoulder Pain Treatment: Why Choose Physical Therapy?
Written By PTConcepts on June 20, 2018
---
Suffering from shoulder pain?
Then you'll know just how quickly day-to-day activities can become painful. Even something as simple as picking up your child or reaching for an item in a cupboard become impossible to do without feeling any pain.
That's why it's time to seek an effective shoulder pain treatment – physical therapy.
Using Physical Therapy to Prevent Surgery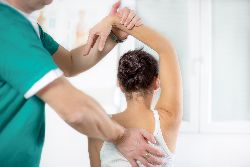 When you notice the pain in your shoulder isn't easing or is getting worse, a visit to your local physical therapist enables them to evaluate what's causing the pain so they can put together a targeted treatment program.
They'll look at the strength and range of motion in your shoulder, conducting special tests that help them pinpoint your cause of pain and choose the most effective treatment.
Once done, your treatment will begin. They may control inflammation and pain through therapeutic modalities, and you may do at-home exercises to boost the mobility and strength of your shoulder.
How effective is this?
Well, one study found physical therapy to be far more effective than another shoulder pain treatment (corticosteroid injections - CSIs), with only 37% of patients having to return to see their physician following their treatment compared to 60% of the CSI group.
The Importance of Pre - and Post-Operative Shoulder Pain Treatment
Even if the condition that's causing your shoulder pain requires surgery, physical therapy aids your recovery time.
Studies have shown how physical therapy helps build up your strength before surgery, so your shoulder is in prime condition to heal, and it will further strengthen and improve your overall recovery time afterward.
This means fewer visits to medical services and a speedier return to your normal functions. It also reduces the risk of you compensating or performing bad movements while one of your shoulders is recovering.
Equally, ongoing visits to your physical therapist, even after you've been given the all-clear by your doctor, can help prevent future injuries and problems. Your physical therapist can also give you strengthening exercises to do at home on a regular basis.
Your shoulders are used for a variety of different movements – but they are prone to injury. Taking the right steps after an injury or during your surgery rehabilitation will help keep your shoulders strong and mobile for many years to come.
Discover the benefits of our shoulder pain treatment by finding your local PTConcepts' clinic online today. With clinics in Plano, McKinney, and Frisco, there's a convenient clinic near you!

Posted In: Shoulder Pain Treatment Physical Therapy